Harford County Power Washing
#1 Power Washing Company in Harford
Why We Are the #1 Harford County Power Washing Company
Our customers throughout Maryland love us. We're happy they do, here's a few reasons why.
Full Service Power Washing Solutions
100% Customer Satisfaction Guarantee
Professional and Affordable
Almost 15 years experience
We care about the details
FREE estimates
Fully insured
"They power washed everything. My home, my driveway, around my pool and cleaned my roof. They are incredibly professional, affordable and they do incredible work. Several of my neighbors approached me and asked for their number after. I highly recommend them to anyone!"

– Bradley S.
"These guys came out to powerwash and stain my wood deck that was filthy. The deck came out great! Very happy with the work, highly recommend."

– Vernon T.
"I had them clean my concrete pool deck for the 2nd time in 3 years and that turned out fine. I wasn't satisfied with the initial job and had to clean up after one of their crew. The owner personally contacted me to tell me he would do whatever it took to make things right and he did that to my complete satisfaction. Because of this and previous good work I will definitely use them again."

– Larry L.
Call (410) 513-9876 or fill out the contact form below if you have any questions or would like a free estimate.
We happily serve the following areas:
Aberdeen · Abingdon · Bel Air · Darlington · Edgewood · Fallston · Forest Hill · Havre de Grace · Jarrettsville · Perryman · Pleasant Hills · Pylesville · Riverside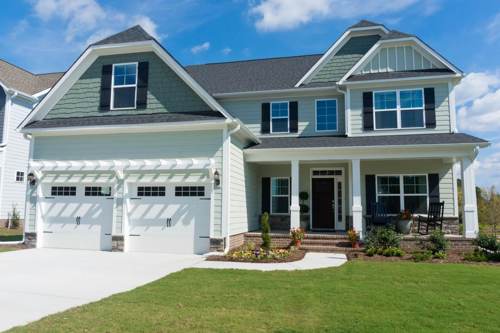 Soft Washing in Maryland
The only technique a power washing company should recommend for certain exterior materials such as asphalt shingles, vinyl siding and brick. It uses lower pressure and specialized cleaning solutions to safely remove mildew, bacteria, algae and other organic stains from surfaces without damaging them.
Pressure Cleaning
Certain surfaces, like concrete require a higher PSI in order to effectively clean them. As an experienced pressure cleaning and power washing company, we have the equipment and experience needed to handle any job of any size.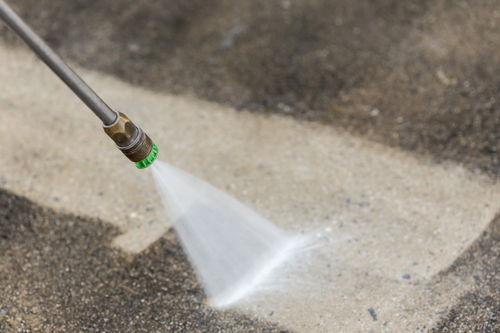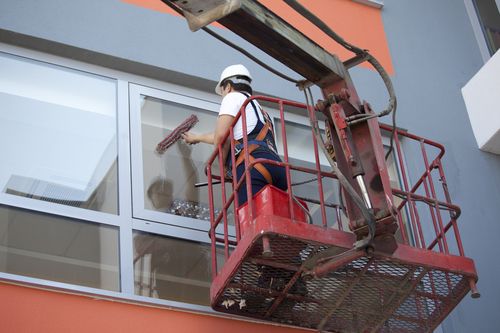 Window Cleaning
We offer to both our residential and commercial customers our window cleaning services. We have found that most customers who have had their exteriors power washed have also benefited from adding the final touch of clean windows to make their property really sparkle and shine.
Additional Services
In addition to  our specialties of soft washing, power washing, and window cleaning we offer a wide range of other services for residential and commercial properties from Woodsbrook to Wimbledon.
.
Black Streaks – no more
Moss & Algae Removal
All types of roofs
Using our time tested soft washing Fallston MD method we can remove black streaks, moss, and algae without risking damage to a single shingle! 
The most common type of roofing material Fallston power washers come across is asphalt shingles. Because of this, we have almost 15 years experience in cleaning shingles the best way possible. Don't risk using a less experienced company that may try to tell you that a higher PSI is better… this could weaken or break the shingles.
Gutter Cleaning
Gutter Guards
An important part of your home, don't forget about your gutters! A variety of debris can begin to clog up your gutters and can lead to leaky roofs, broken gutters, and clogged down spouts. It is highly suggested you have them cleaned out at least once a year, if not more, depending on how much debris may fall into them.
Ask about our gutter guard services! These have shown to greatly reduce the amount of debris that is allowed to fall into the gutters while still allowing water to flow. Having them installed may allow for easier gutter maintenance.
Deck Restoration
Deck Staining & Painting
Has your deck seen better days? Over time decks, patios, and pool areas take a beating from the elements that may leave paint chipping or a dull gray look. Soft washing in Fallston MD is an easy way to get these areas looking good in no time. 
We would be happy to suggest the best way to get your outdoor areas looking like new again. A restoration may be all that is needed. If you are looking for the deck to take on a new look, we may recommend staining or painting.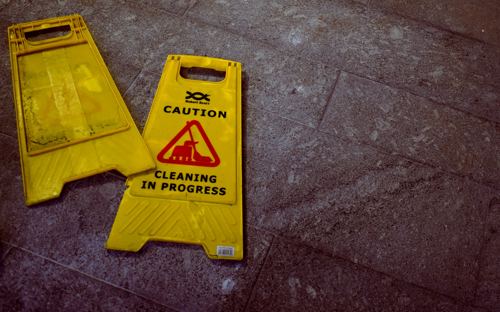 Soft Washing vs Power Washing
It is critical that you know the difference. Many inexperienced power washers don't know that if the wrong method is chosen they could cause more damage then good.
What is Soft Washing?
It has been defined as a cleaning method using a lower pressure and specialized cleaning solutions to safely remove mildew, bacteria, algae and other organic stains from asphalt roofs, vinyl siding, brick and other building exteriors where appropriate. It can be done by using a pressure washer with a specialized tip that can be adjusted down to the correct PSI.
What is Power Washing?
It can be defined as the use of high-pressure water spray to remove loose paint, mold, grime, dust, mud, chewing gum and dirt from surfaces and objects such as buildings, homes,  concrete surfaces, wood decks, patio and pool areas or roofs. We are a well-experience power washing company that knows what is effective.
Which one is best for your property?
The honest answer is, it depends. It depends on the surface that needs to be cleaned. Our crew is trained to use a lowest-pressure-first technique. This means they start with a lower pressure and work their way up if they need to. This is especially important if they are cleaning brick, vinyl siding, or asphalt shingles, and even wood surfaces. If the surface is stone, concrete, or some other very durable surface we know that a higher pressure will be needed. With almost 15 years experience, we can handle any surface with just the right amount of pressure, while also being careful of your property and the surrounding landscape.
Is soft washing effective?
We strongly believe the answer is yes, if used on the right surface. Stripping, chipping, or etching is likely if too high of a pressure is used on surfaces such as asphalt shingles and brick, and wood.  Also, mildew algae, and fungus grow into every nook and cranny. In order to get to the root of the growth, a pressure washer would have to get way too close, causing damage. When using a low pressure detergent based approach, the detergent can seep into the nooks and crannies and effectively kill it. Then, a low pressure rinse will be able to remove the cleaning solution, leaving you with a sparkling clean surface.
Get a Free Estimate Today
What Our Experience Shows
You become more experienced the longer you have been in business. Over time we have compiled a list of the most common types of surfaces we are asked to clean and what tools or equipment we have found that work the best without risking damage to property.
Concrete
This material may be the most diversely used material. We have been called out to clean this surface most often when it is used on driveways or walkways in either its natural smooth gray form or a stamped pattern. It can also be used around pool areas and on a variety of different types of walls, including ones that are prone to grafitti in certain commercial areas. For concrete areas that have oil stains we often have to apply a speciality cleaning solution followed by a higher pressured rinse of the area as concrete is a very durable material that can withstand the higher pressure. We take extra care to cover or protect any surrounding landscaping and plants. All solutions or detergents used are environmentally friendly.
Stone
We most commonly see stone used for patios, deck areas, and pool areas. Similiar to concrete material, most stone surfaces are considered durable enough to withstand a higher PSI. Depending on how dirty or stained the surface is, we may need to use a detergent or cleaning solution to penetrate and loosen up the dirt, grime, algae, or other build up before we rinse it away.
Brick & Mortar
We have found that brick and it's mortar are more at risk for chipping or breaking with too high of a pressure. The age of the material seems to determine how much PSI it can withstand before chipping is seen. Because of this, our crew is trained to start with a safe amount of pressure to see if it is effective – similar to our signature soft washing Fallston MD technique. Only gradually will they increase the pressure if they feel it's needed. Our #1 priority is to keep your property safe.
Vinyl Siding
Known as a not-so-durable surface in the power washing industry. We will always use our signature soft washing Fallston MD technique. We apply a specially formed and environmentally safe detergent first. This helps penetrate mold and algae spores down to their root. It also helps loosen up built up, or stubborn, dirt and grime. After the detergent penetrates the area, we are able to use a lower pressure to rinse away the nastiness. This allows for the most effective clean with the least amount of risk!
Asphalt – Driveways and Roofs
We most often clean asphalt shingles on owner's roofs, but we occassionally will be called out to clean and asphalt driveway as well. We have found that for both areas, our signature soft washing Fallston MD cleaning method is the most effective, every time. This includes our one-two punch of a specialized cleaning solution and a lower pressure rinse and nozzle. Whether it's mold, algae, or moss on a roof, or oil and grease stains in a driveway, we know which detergent works the best and is the most environmentally friendly.
Wood
Everyone loves a good wooden deck, but we've all seen the old wooden fence that starts to look more like a gray wall after a while. With our time-tested soft washing technique we can restore almost any wooden surface back to it's orginial look without scouring the wood. We come fully equipped with the right wands or power washing guns needed to handle any sized job.
Patio Furniture
Due to the differing materials used for patio furniture, we always come equipped with the different nozzles, detergents, and hoses we know work the best. From metal tables to plastic chairs, we've got you covered.
Cleaning Around Pool Areas
We know you work hard to keep your beautiful blue water clear and free of dirt and debris. We take extra care in the direction we spray our hoses so as to avoid spraying water into your pool. We may use a specific nozzle at just the right angle to allow us to close to the edges, but direct the water away from the pool.
In Conclusion
Most surfaces are best cleaned using our signature soft washing Fallston MD technique. We have found it to be the most effective way to remove even stubborn dirt, built up grime, mold, algae, grease and oil stains, and even grafitti. All without risking unneccessary harm to surrounding landscaping!
Our 100% Soft Wash Fallston MD Satisfaction Guarantee
We believe that all of our customers should be satisfied with our services. We offer a 100% Customer Satisfaction Guarantee on all the work we do. If you choose us, we will make sure the job is done correctly and to your satisfaction. If there is something we have missed, or you feel we could have reasonable done better, please, don't hesitate to ask us to correct it.
We would be happy to answer any questions you may have regarding our services.
Harford County Power Washing
Average rating:
11 reviews
Mar 29, 2019
Thank you for making our windows sparkle and our roof free of streaking! You did an excellent job and the prices were affordable!
Mar 29, 2019
Top notch pressure washers!! They do a fantastic job and can remove oil spills from concrete.
Mar 21, 2019
I give this company 5 Stars because they showed up on time, did an excellent job cleaning our windows and pressure cleaning our 3 decks, and they cleaned up after they were finished!
Mar 21, 2019
Great Soft washing and pressure cleaning services! The results were incredible, our family came over to our home and asked us if we got a new roof and fresh coat of paint on our home!
Mar 15, 2019
Thank you for doing such an excellent job cleaning our patio and driveway. We will be recommending your services to our family and friends.
Mar 15, 2019
Awesome Roof cleaning services!!! I will be having them wash my siding next week, to prepare it for the upcoming season!
Mar 8, 2019
The team of pressure washers showed up promptly and ready to work. I was impressed with their techniques and ability to get rid of stubborn mildew and mold around my property.
Mar 8, 2019
5 star services!!! They cleaned our homes windows and our homes siding, and did a fantastic job! I will be calling soon to have my driveway power washed.
Mar 1, 2019
These guys have the experience and knowledge to clean just about anything with a pressure washer. They are professional and friendly.
Mar 1, 2019
They came to our commercial property to give us an estimate, we accepted and they put us on the schedule quickly and the results were 5 star.