Graffiti Removal Harford County
Free Estimates
Fully Licensed & Insured
Competitive Pricing
Highly Effective Cleaning Methods
100% Satisfaction Guaranteed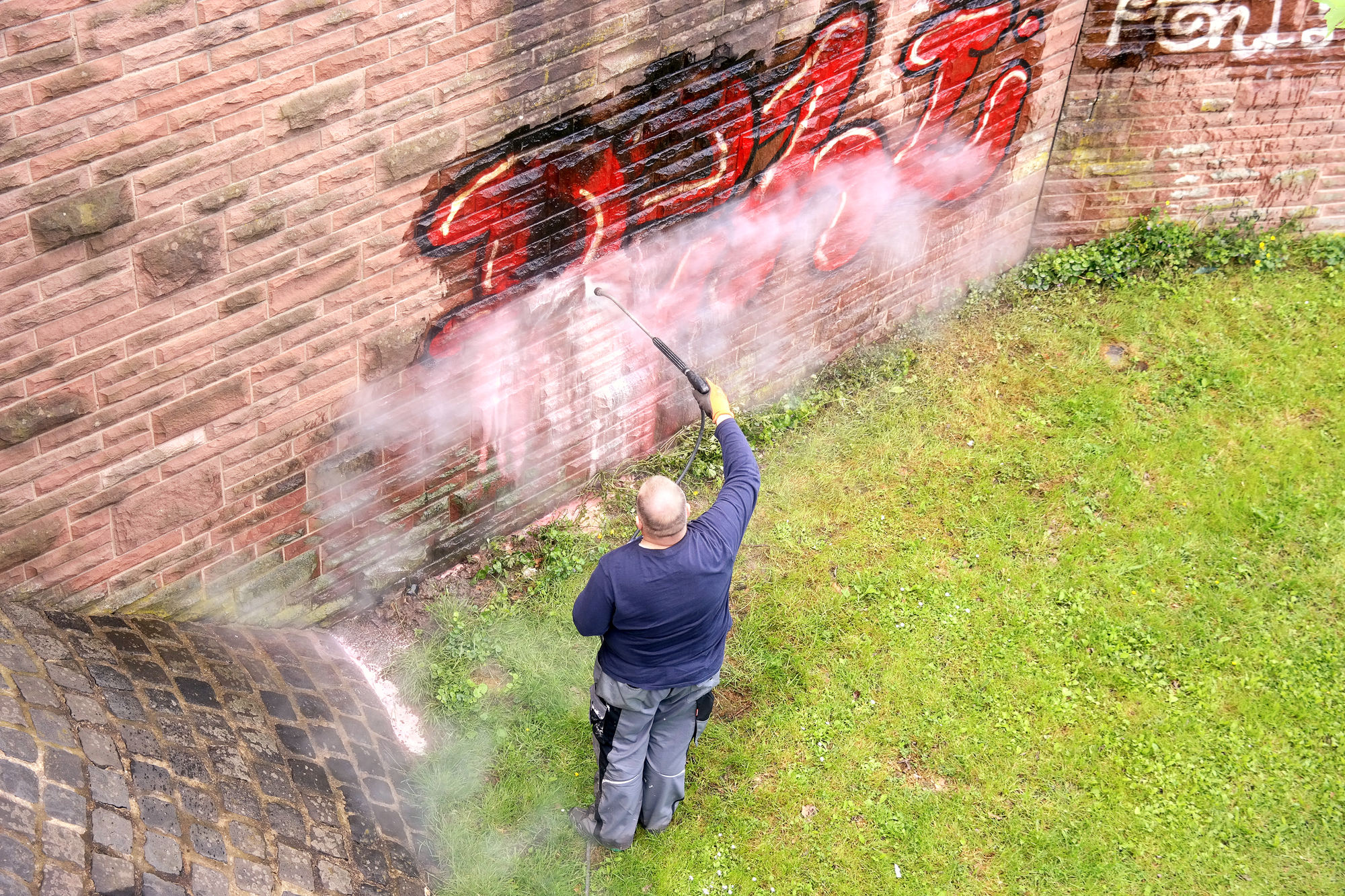 It is our goal here at Harford County Power Washing to safely and effectively restore surfaces to their original form and appearance. This includes the removal of graffiti. Some may think that graffiti is art, but, it is hard to appreciate merit when it lowers your property value, increases chances of vandalism, and encourages crime in your area. Fortunately, we can help get rid off graffiti safely. Our trusted process will make restoring the beauty of your brick, cinder block, and natural stone surfaces look easy! Call now for a free estimate on graffiti removal today! 
Contact Us Today For a Free Estimate!
(410) 513-9876
Harford County Graffiti Removal  
Residential, Commercial, or Industrial Buildings- we are here to assist you in removing all defacement from your property. The unsightly image of having your property covered in graffiti can lower your property value, deter customers, and overall cause you to lose money. When you choose Harford County Power Washing in Maryland, we will put our team to work and eliminate all signs of graffiti. Spray paint and vandalism are no match for the top of the line products we use and you can enjoy peace of mind knowing your stonework will be returned to original condition! Each employee is expertly trained and will arrive promptly and prepared to the job. Local businesses and families have been trusting us for over 15 years to clean up their neighborhoods and keep them looking clean inside and out. With our exterior washing services and graffiti removal methods, you cannot go wrong. 100% customer satisfaction guaranteed. 
Attract More Clients To Your Business
Do not allow wall writings to interrupt the success of your business. After spending a great deal of money on a building, business owners want to attract customers, not deter them with the unprofessional look of graffiti. Having graffiti on your business's building looks very unprofessional and can be very time consuming to try and clean up on your own. When you hire the professionals of Harford County Maryland, we will remove graffiti fast and we can offer you a customized maintenance program that keeps your building graffiti free- all year long. If you are interested in further building maintenance cleaning, we offer 5 star gutter cleaning services as well. Call us for a free estimate to have your commercial building looking its best!
Our main focus when it comes to defacement of property, is prevention. This has become a specialty for us because it plays a key role in reducing vandalism in our county. We pride ourselves using environmentally safe restoration techniques. With an unmatched commitment to the revitalization of our communities!  
 We use commercial grade equipment and industry leading top of the line eco friendly products

 We are a proven, reliable & professional Graffiti Abatement Company
 We provide a service motivated towards the safe restoration and prevention of all graffiti and vandalism.  
Customer Satisfaction Guarantee
It is our promise to each and every client that a job is not complete until you are 100% satisfied with our services. Having you as one of our customers means everything to us, so we want to make sure that you are happy with the tasks done. If not, we are determined to do everything in our means to make it right. 100% Satisfaction Guaranteed or You Do Not Pay. 
About Our Company
Harford County Power Washing is a licensed and insured professional company that has been providing quality service to Maryland businesses and residents for over 15 years. Our primary goal is to serve you with the highest level of honesty, integrity, and workmanship. When you call us for your any exterior residential or commercial washing needs, we will do everything in our ability to earn your longtime respect and future business. In fact, we guarantee you'll receive the best service at an affordable price. If you are interested in a free estimate or getting put on our schedule, give our team a call. We are more than happy to answer any questions you may have. 
Call The Experts Today
(410) 513-9876